Go For The Authentic
Based in Sussex, on the South Coast of England Alan Wright designs and makes stained glass informed by nature, the human figure and architecture.
Having studied Architectural Glass at Swansea, Alan works closely with architects and project managers, in new build or new adapted use situations, taking into consideration design brief, structural considerations, aspect, light and lighting, with other requirements from the client.
For private new work, the client's wishes are also respected when new solutions are offered and kept engaged in the process, so that the final work offers the best and most appropriate result.
Originally trained in Fine Art, (BA Hons. Bristol), and later, Architectural Stained Glass, (HND Distinction Swansea). He is experienced in designing for different situations, using the most appropriate glass with treatments including sandblasting, etching techniques, and specialises in kiln-fired paint, stain, enamel, using lead as an integral part of the design.
Alan designs and makes windows for churches, hospitals, schools and museums as well as domestic installations, not only in Sussex but on a national and international basis. Although his passion is the creation of bespoke designs, he is also experienced in restoration and conservation work including the production of replicas for the film industry, e.g. Grey Owl Productions for Richard Attenborough. He is however, no longer taking on further repair work for new clients.
Alan is a member of South Coast Artists, the Arts Forum and the Quaker Arts Network.
Testimonials
Reverend Evan France - St. John the Baptist, Westfield
We loved working with Alan on our project. After an initial visit and discussion, he came back with sketches and ideas which were imaginative and thoughtful. He was sensitive to the architecture and lighting of the building and very receptive to our ideas as the work proceeded. The window was installed on time and has been very much admired since.
Juliet Harris  - Senior Solicitor, Whitehead Monkton
I recently engaged Alan to design a roundel as a present for my father's 75th birthday. Alan was extremely quick and efficient in his responses and really good at encouraging me to get involved in the process as well. He was also excellent at providing me with a range of designs and cost options and treated me with an enormous amount of courtesy throughout. My father was delighted with the end result, which was very personal and excellently crafted.
Gaby Hill   - 1066 Web Marketing
In our Victorian House we have a lot of stained glass windows and the leaded stained glass panel in our front door was suffering from 100+ years of the door being shut and slammed. You then renovated our stained glass panel, took it completely apart, re-leaded it and finally put it back in the door as if it had never been gone. The result amazes me every time I go through the door!You certainly are an expert craftsman and an artist. Thank you so much.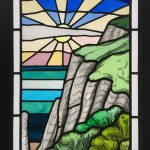 David Whitcombe Surveyor
Alan's work is simply incredible. He has provided a stained glass window for my house and carried out projects for my clients. His work brings art to brighten up houses.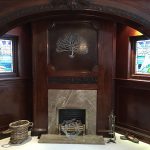 David Lawson - Author and Company Director
Alan Wright skilfully blends creative flair and technical ability to produce beautiful stained glass that is individually tailored to your property, the surrounding environment and your personal vision. He has the distinction of being both a fine artist working in glass and a knowledgeable craftsman, able to construct and fit the pieces he creates. The four windows he produced for our house renovation act as stand alone works of art while providing a cohesive visual sequence throughout two ground floor rooms of the property. Alan's work is highly recommended.