Restorations, Repairs & Conservation
Alan is an expert at skillfully and sympathetically conserving and restoring damaged, stained glass windows.
GlassWright has been restoring and conserving glass, when appropriate.
Where glass is degraded or damaged, as much of the original glass is saved as possible.  Methods such as resin, (for glass), and "plating" (sandwiching of glass) are employed.
For restoration work the quality of glass and treatments are matched as closely as possible to the original, with any changes and additions noted for reference.  Where appropriate, we are happy to work with other glass professionals in this field.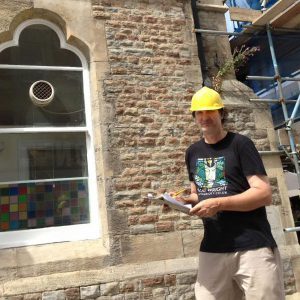 Our Stained Glass Conservation & Restoration Process
GlassWright surveys on site and records the condition of the glass and any treatments, lead-work and support. Once an assessment is completed, we make recommendations on how to conserve or restore glass.
Small repairs may be carried out on site, if the panels are generally in good condition. However, with weakened lead/joins or damaged areas, we remove panels and perform conservation/restoration in the studio. If any of the glass is to be replaced, GlassWright matches the quality, tone and colour as closely as possible to the original. Any treatments to glass painting is likewise completed, then kiln fired and recorded, which is valuable to any future restorer to know which work has been undertaken.
As part of the repair and restoration process we make sure that any replacement lead work is matched to that of the original work.
Once the studio work is completed, we fix into stone work, wood or metal frames, with support bars, employing the most appropriate fixing method and materials for each specific situation. For example, lime based mortar is used for stonework.
If protection is required, protective glass, grilles, polycarbonate, toughened or laminated glass are used in an appropriate way with care for visual impact.
Damaged stained glass window?
Contact Alan now and discuss the best method of restoration.